History
History
jeff
Tue, 08/02/2022 - 14:21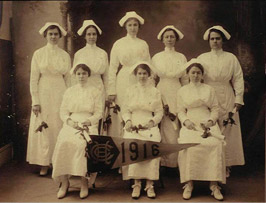 Lakeview 100 Years of Caring Book
This book covers the first 100 years of Lakeview history (1894 - 1994). Special thanks to the Alumni Centennial Committee for putting this together.
1894
The Danville Training School (DTS) for nurses was founded in November of 1894 as a hospital-based school and graduated the first class of four students in 1896.
1911 - 1937 Initial Charter
The State of Illinois initially approved the diploma program in 1911, the first year the State began recording approval actions. The state formally certified the program in 1937 when certificates were first awarded.
The 1940s
Lakeview Hospital School of Nursing established an affiliation in the 1940s with Illinois Teacher's College in Charleston, Illinois, now known as Eastern Illinois University. Instructors from Eastern came to Danville and presented courses on-site for the convenience of the students.
The 1950s
An affiliation between Lakeview Hospital School of Nursing and Danville Junior College, now Danville Area Community College, was initiated in the 1950s for the community college to provide the lower-division general education courses.
The 1960s
In the 1960s, Lakeview Memorial Hospital School of Nursing admitted the first female student who had been married but was widowed with two small children. It was approximately at the same time that the first male student was admitted. During the late 1960s, black female students were first admitted.
The 1970s
In 1971, the diploma program offered by Lakeview was fully accredited by the National League for Nursing.
The 1980s
The College was approved to establish a baccalaureate nursing program by the State of Illinois, Department of Registration and Education in September 1987.
The 1990s
A brick addition to Webster home was completed and is now the Lakeview College of Nursing home.
The 2000s
Lakeview College of Nursing developed a contractual agreement with Eastern Illinois University to bring the Lakeview College of Nursing Baccalaureate of Science in Nursing program to Charleston at the start of the new millennium. Students began to attend classes on the EIU campus in the fall of 2001.
The 2010s
The Charleston facility completed an expansion in 2014, creating more space for classrooms, a computer lab, and faculty offices. Lakeview acquired a health services building from a local dentist to expand room for the future growth of community immunizations clinics, health clinics, and extra lab space adjacent to the Danville campus. During the summer of 2015, the Danville location renovated the nursing skills lab to connect the basic lab equipment with the simulated lab equipment and provide additional lab storage space.
The 2020s
Due to a worldwide pandemic, COVID-19, Lakeview College of Nursing moved all courses to online learning for the spring and summer semesters in 2020.