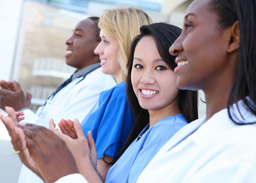 Students who are enrolled in at least 6 semester hours in LCN courses at the College of Nursing and who achieve a GPA of 3.6 or higher in those courses will be named to the Dean's List for the semester. 
The Dean's List is forwarded to media and posted online following the final grade notification each semester.  If a student does NOT wish for this information to be published they must opt out of Merit within the first week of class for the semester that will be publicized.  The information is released to newspapers based upon the zipcode of the student.
Congratulations to the students who have achieved this honor!  They can be viewed within our Merit page.