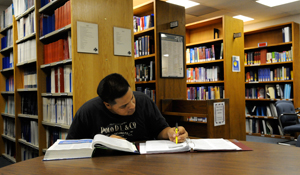 Librarian Hours (Danville Campus):
8:00 am to 4:30 pm Monday-Friday
Charleston Campus
LCN/Charleston students have remote access to LCN's Danville Campus library. Additionally, these students have full access to the Booth Library on the campus of Eastern Illinois University.
Danville Campus
The Library at the College of Nursing has a collection of over 2000 items, and maintains subscriptions to 30 print journals. Students, alumni, DACC and EIU students, OSF Sacred Heart Medical Center Employees, and those who have received approval from the librarian, may utilize the services of the library and computer lab. Institutions, which have been approved, may also gain access to the library for their constituency as well. The Lakeview College of Nursing Library is a member of the Illinois Heartland Library System, which allows students to borrow books from over 585 libraries in the southern half of Illinois. Additionally, this membership provides those who utilize the Lakeview Library to request materials from any state within the U.S.
Students From Either Campus
Students may also use other local libraries including the OSF Sacred Heart Medical Center Library nearby the Danville Campus or Sarah Bush Lincoln Health Center Medical Library near the Charleston campus.
Please visit the LCN Library Orientation Page for further information on how to use the LCN Library.
---
Miranda Shake, Library Director
Email: mshake@lakeviewcol.edu
Phone: 217.709.0927
Fax: 217.709.0955
Lakeview Students:
Instant Message me if you have a question.
See me for my screen names!