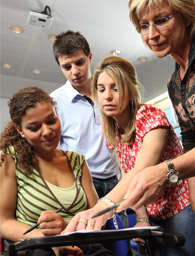 Lakeview College of Nursing is an independent, single-purpose institution offering a curriculum leading to a baccalaureate degree in nursing. The basic program requires a minimum of 16 months to complete beyond the preliminary coursework.  The Curriculum facilitates integration of an in-depth clinical and theory base in nursing with a liberal education that is grounded in the humanities and sciences.
Coursework required for admission is planned to provide students with sufficient information from the social and natural sciences and humanities to permit an effective undertaking of the nursing courses. The general education courses facilitate the development of the knowledge base and attitudes for students to view clients as holistic beings. These courses are selected and/or designed to emphasize physiological, psychosocial, spiritual, cultural, and communication foci.
Courses that specifically address the physiological focus include anatomy, physiology, microbiology, nutrition, and chemistry. Psychosocial, spiritual, and cultural foci are incorporated in the psychology, sociology, humanities and fine arts courses. The rhetoric and communication/speech courses enhance students' ability to communicate effectively in the verbal and written modes with the ultimate goal of development of critical thinking skills.
General education courses may be taken at a regionally accredited college of choice.