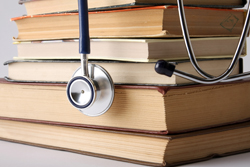 Books and supplies are available in the Danville Area Community College Bookstore, https://www.dacc.edu/bookstore. LCN uniform patches are also available for purchase from the receptionist on the Danville or Charleston Campus.
Elsevier offers 25% off and free shipping when you order directly from them. Open this hyper link and enter discount code 70455 when you check out. http://evolve.elsevier.com
Lippincott Williams & Wilkins can be purchased through this website:http://www.lww.com/. The site offers a discount and free shipping. Please contact the Librarian for the discount code.
Textbook Information
Please log on to SONIS to see your list of textbooks. Click on the Academics tab and you will see a menu item called Books. Any questions please email or call Miranda.
Another way to see textbook information is to go to the SONIS log in page... click on Courses by Semester then click on each course you are taking to see the textbooks. You may want to change the semester but keep in mind textbooks may change. You do not need a SONIS log in to do this.
Used Textbook Message Board
Log into SONIS to use the bulletin board system. This message board is exclusively for the use of exchanging information about selling or purchasing textbooks for Lakeview College of Nursing. Any other messages may be deleted by the administrator.