---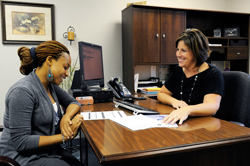 Thank you for choosing Lakeview College of Nursing! You have joined a community of caring individuals who are committed to helping you every step of the way. Please don't hesitate to contact faculty, staff, or administration if we can be of assistance on your journey through our BSN program.
Student and Academic Records
The following student educational records are kept in the Registrar's Office at Lakeview College of Nursing: original application, college transcript(s), HESI scores, and health records. The College retains student educational records according the Records Retention Schedule that is available within the office of the Director of Enrollment.
All information collected, assembled or maintained in an official file by Lakeview College of Nursing concerning an individual student is available to that student under the supervision of the Director of Enrollment/Registrar. Students may request copies of heath records contained in the file for a fee.
It is the student's responsibility to keep the following information in Lakeview records up-to-date:
The student should update address changes through SONIS.
The student should notify the Director of Enrollment/Registrar of a name change. Two forms of legal documentation will be required.
The student should provide verification of a social security number change to the Director of Enrollment/Registrar, usually a copy of the new social security card.