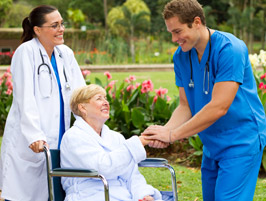 Lakeview College of Nursing Mission
Lakeview College of Nursing has a central focus to be a dynamic center of educational excellence as a diverse and inclusive College community that works together, exemplifying adaptability, integrity, and caring. The College will be forefront to the trends in health care and committed to nursing as a profession by preparing safe, competent, patient-centered, caring professional nurses for leadership, service, and practice for the advancement of the nursing profession.
Vision Statement
Lakeview College of Nursing aspires to be the College of choice for professional nursing in Illinois and recognized nationally for nursing excellence.
Values
Lakeview College of Nursing's mission and vision are based on the five core values:
Adaptability is the process of modifying behavior as indicated to changing circumstances as evidenced by flexibility and accommodation of changing, evolving, and unpredictable situations involving self, individuals, families, groups, and communities. Adaptability is the ability of the nurse to respond quickly to unexpected events, utilize problem-solving, contribute to innovative solutions, and to think creatively. Adaptability is building a sense of community within and outside the College through understanding and appreciating a diverse, multicultural society.
Caring as a central paradigm of nursing enables one to transcend the self and serve all people. Caring considers the holistic nature of people and the complexity of the human condition. In caring, the nurse demonstrates a commitment to the welfare of self, individuals, families, groups, and communities. Caring is viewed as attitudes, behaviors, and values that take on a spiritual dimension. Attitudes and values that send a message of support, empathy, genuineness, and commitment to another are integral to this concept.
Excellence is the quality of being superior or very good at what one does and applying that quality in all actions to generate optimal and recognizable outcomes. Excellence is represented through the implementation of quality improvement initiatives, purposeful management of resources, promotion of lifelong learning, and fostering care delivery models that raise the level of nursing practice.
Integrity is the commitment, even in the face of adversity, to five fundamental values: honesty, trust, fairness, respect, and responsibility. Integrity demonstrates trustworthiness by being honest, dependable, and reliable, along with the ability to apply ethical standards of the profession.
Service is the process of selfless giving to others that provides benefit to individuals, families, groups, community, and society. Central to this concept is a reflection on the experience which offers the opportunity to discover which practices can influence particular outcomes.