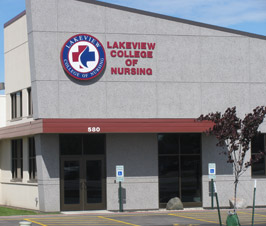 Facilities
The Lakeview College of Nursing in Charleston offers all amenities under one roof: classrooms equipped with the latest technology, impressive nursing skills lab that includes life-like, high-tech simulators, spacious computer lab, several faculty/staff offices, comfortable conference area, nicely equipped student lounge, and quiet study area.  The facility creates a safe, caring, comfortable atmosphere that contributes to student development.  Students are welcome to live in off-campus housing throughout the entire nursing program.
Directions
580 W. Lincoln Avenue
Charleston, IL 61920
Google Maps to Charleston campus

Lakeview - Charleston Campus: Find us approximately 8 blocks west of the Eastern Illinois University Campus on State Highway IL-16 (which is also called Lincoln Ave.).  The Lakeview Lab will be on the left side of the street when heading west.  The Lab is about 10 miles east of I-57.  It will be on the right side of the street when heading east.  We are located directly across the street from The Bank of Charleston.
Hours of Operation
The Charleston Campus is staffed Tuesday through Thursday between the hours of 8:00 am and 3:30 pm during the Fall and Spring Semesters.  Faculty, staff, and students are issued key fobs to access the building after office hours until 5 pm Monday through Thursday during the Fall and Spring semesters.  If changes occur to this schedule, they will be posted on the main entrance of the Charleston Campus.